I'm so in love with Pinterest
(www.pinterest.com)
. It's genius. I love being able to collect ideas in one place like that, and I love how many creative things I've learned from it!
My grandma taught me how to sew when I was a little girl and then Josh's mom taught me how to quilt when I was a young adult, but I haven't sewn a whole lot as an adult. I really enjoy it, but I rarely feel like there's anything to sew. Well, Pinterest has changed that, and has inspired me to pull out my dusty sewing machine so much more lately and whip up some fun little projects! :) There are a million ideas on there and I now have a growing list of things I'd love to make! Because I see all of these creative things people do on Pinterest, I'm finding myself looking at everything differently. A friend gave me a couple of tank tops earlier this week that she was done with and just last night as I was putting them away in the closet I had the idea to turn one into a summer dress for Selah. (Thank you friend for the tank top!!) I pulled out some scissors and went to town on that tank top, turning it into a dress. :) And of course stayed up way too late... which I didn't notice at the time because I was having too much fun sewing away in the quiet of the night, with Rita Springer softly playing.
First I laid a current Selah dress on top of the tank top to be my "size template" and cut off the excess from the bottom and one side. I set aside the bottom fabric to make straps. Then I hemmed the bottom of the dress and sewed a matching strip of ribbon across the mid section of the dress to look like a large ruffle. I turned the dress inside out and sewed up the one side again, then flipped it right side out. Next I attached the straps (again using her other dress as a size guide for how long/short the straps should be, since Selah was sleeping). Lastly, I made a fabric flower out of some fabric I had already, and hand-sewed it on. I paired it with some brown leggings and a hair clip I made a few months ago for Selah. She put it on this morning and it fit perfectly!
Here's the adult tank top on the left, and my sweet little model in her new cozy summer dress on the right.
I love her sweet smile. :)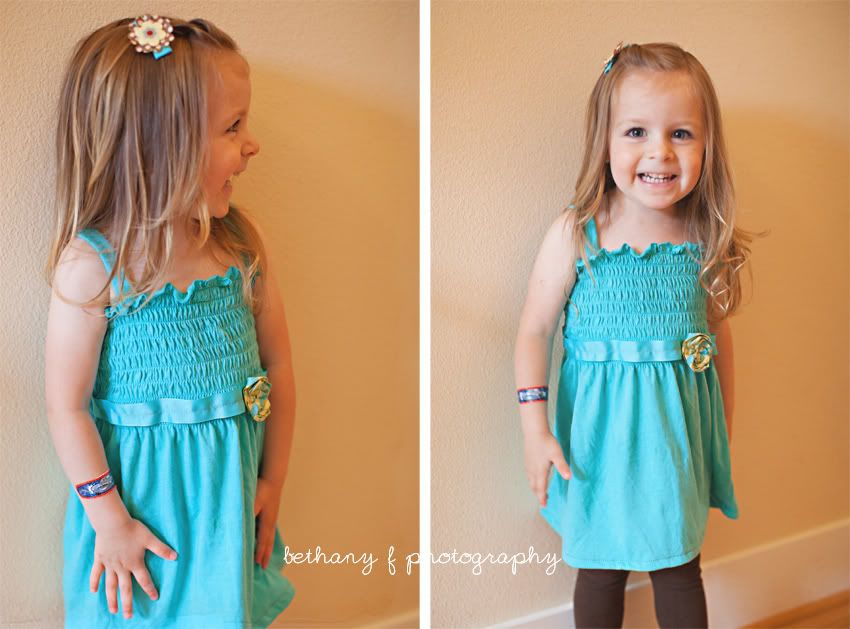 If you're wondering what's on her arm, it's a Lighting Speed McQueen bandaid
. :)