Four and a half years ago Josh and I met Kim and Ken. They were planning on volunteering in our church's youth group (that Josh was leading at the time), so we met for lunch to get to know one another. I was surprised at how similar Kim and I were just from the little bit I got to know about her at that lunch. She was an instant friend!
...and I just stole this picture from her blog. :)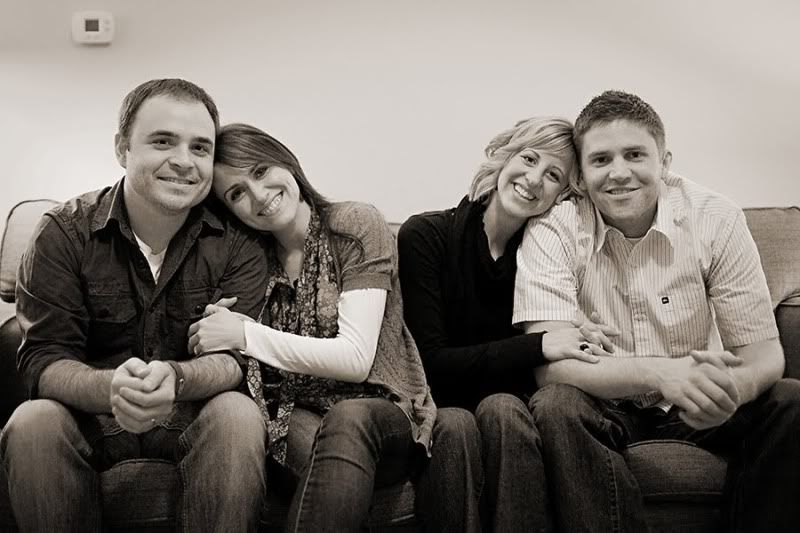 Over the years I've been so blessed by her. She's
very
genuine, down to earth and kind. She's people focused, rather than task/time focused. She's thoughtful, always looking for ways to bless others and let them know they're valued and thought of. She thrives in environments that are hospitable, like herself. I've learned a lot from her about how to be a better friend.
We often laugh when we find we've done things exactly the same. We tend to have similar taste in everything, even which groceries we buy. One time Kim came over and we discovered we had the
exact same
glass jar with silver lid in our pantries with the exact same amount of sugar in them... and it was the same bulk, organic, raw sugar from the same store! I often say we're the same person just with different hair color. Seriously.
Well, Kim & Ken are moving to California tomorrow for a job change and I am so happy for them and sad all at the same time. I've said "don't go" and I've sized up her suitcase to see if one hot husband, 2 cute kids, a petite woman, and an affectionate cat can fit in it, and I don't think it's happening. Tonight we went over to their place to say goodbye. What do you know, Kim and I practically gave one another the same farewell gift. It was bound to happen since we have the same brain. :) I just couldn't hold the tears back as we all hugged goodbye at the door, though. It was too hard to face the reality that this was really the last time I'd leave their doorstep for a long time. Then we loaded our kids in the car and I cried on the drive home while Josh held my hand.
I am
overjoyed
at the peace they have in moving and for the reception they've already received where they're moving too. Their worth is seen!
...but I'm also selfishly sad for all I'll be losing on an "every day life" basis.
I'm going to miss dropping in and having a chai tea with Kim in her cozy home, chatting for hours while my kids play with her cups and kitchen utensils. I'll miss our spontaneous meetings at Starbucks and fun shopping trips, where we debate purchasing a single item for way too much time. :) I'm going to miss sharing a bowl of whirley pop (the amazing kettle corn they introduced us to) with her and Kenny in our living room, talking late into the night about all God's done in our lives. I'm going to miss her hugs hello as she says, "Hey Sister!" And I'm going to miss just getting to see her face to face, seeing that true, caring friend look in her eye. But, thankfully there's Skype, Facebook, Gmail, and airplanes. And tonight when Kim texted me, I remembered she's really just a text away no matter where she is.
I am
grateful
for God's sweet gift of friendship! And for friends like Kim in my life.