So every year as summer comes to an end I want to grasp for more of it! I don't want to say goodbye to playing out in the sunshine. But by October I am SO excited for apple cider candles burning in my house and pumpkins decorating the front step. I get so, so excited for fall. I'm not there yet, because I still want to enjoy a warm day or two at the beach. But I feel the crisp air arriving and I can smell the hints of fall in it, and I love it!! It makes me want to go shop for boots and cardigans. :)
Right now I'm also dreaming of a laid back vacation. Getting away somewhere quiet to read and relax and enjoy quaint restaurants and little towns just sounds so fun! Well, one of my
dreams
is to some day visit New England in the fall! I've always wanted to do this. I want to see the history and old barns, covered bridges, fall leaves, beautiful farm produce, old architecture, lakes with canoes docked, cobble stone streets... so much of this can be found in Oregon, which is why I love Oregon, but there's something about New England that has always drawn me! And I'd just love to visit some day.
Last night I found this gorgeous place to stay and put it in my travel dreams too.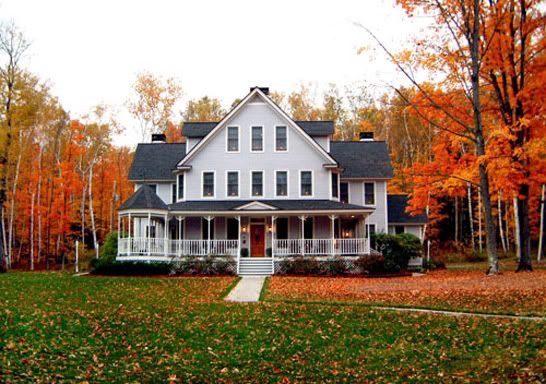 It's the Maple Leaf Inn and this photo is straight from their website. Here's the
Link.
It looks gorgeous in the winter snow too! Click on it and then watch the video at the bottom of the page. Ah, so quaint and sweet. Wouldn't it be fun to find a few more places like this to stay throughout New England? Definitely a spot by the ocean too...
I'm excited for the coming weeks and the changing scenery. I definitely want to take a day with Josh and the kids out in the Hood River Valley to enjoy the beautiful autumn foliage and quaint town! Little mini vacations around here throughout fall sound pretty fun!