My husband Josh loves to bake late at night... he's at the gym right now, but I have a feeling something still may get baked before bed. ;) One of his talents with his baking hobby is his ability to create amazing gluten-free, dairy-free recipes! I love being his taste-tester. Someone's gotta do the dirty work, right?
I'm sure I've shared here before that Josh started a gluten-free, dairy-free chocolate chip cookie company last summer called
Jude's Foods
. It all started when Josh took a batch of his tasty cookies to a family event and family said, "These cookies are good! You should share them with the world." So he set out to do it. :)
Last October Jude's Foods hit the store shelves at all 11 New Seasons Market grocery stores. I just love New Seasons, don't you?!
Josh has a day job and loves his M-F career, so this is an on-the-side adventure! I won't lie, it's been crazy at times with us working all sorts of crazy hours, but we
love
to be able to share these cookies with anyone interested! I'm really proud of Josh and the hard work he's put into this little start up! He's planning to soon hire his first employee so that he can focus more on business growth.
Here's a quick snap of one of MANY trays taken out of the ovens. Jude's Foods Cookies are baked in a gluten free, dairy free commercial kitchen.
www.eatjudesfoods.com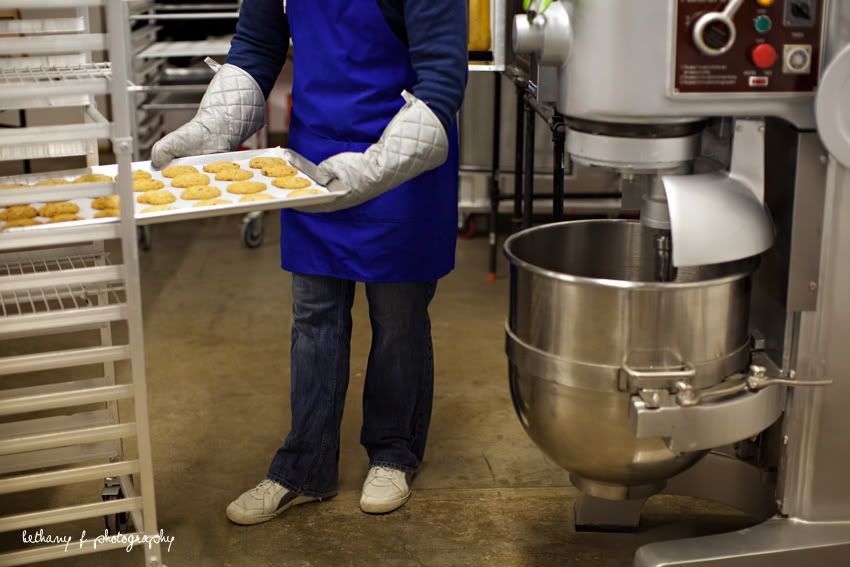 {Shot with Canon 5D MarkII, 50mm f/1.2L lens, ISO 1600, 1/160 sec, f/2}