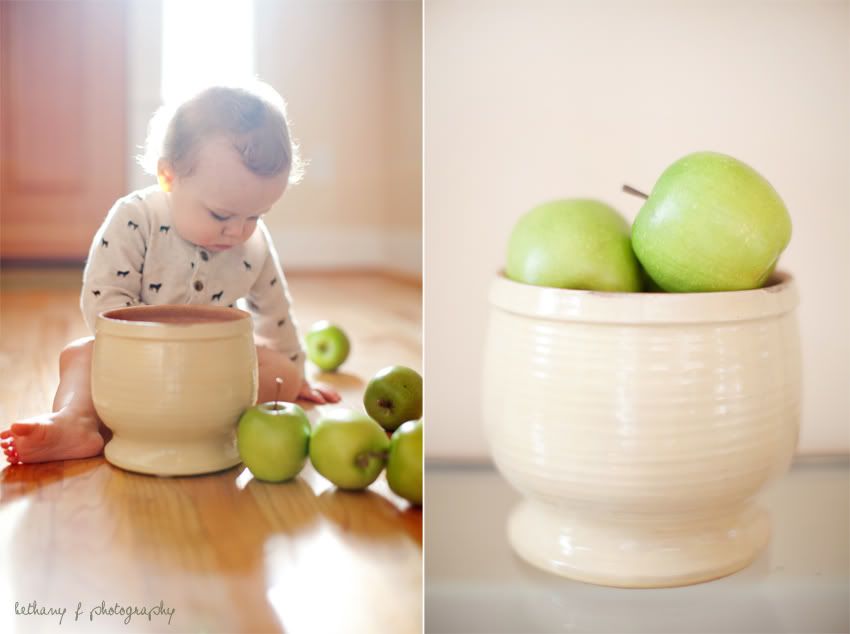 I have a lot of good memories associated with apples.
They make me think of late summer/early fall in my grandparent's orchard.
They take me back to a hot summer when we worked one day on a little cabin my parents owned and us kids were sitting outside on a log, eating slices of apple.
They make me think of school. In 5th grade we made mobiles of our favorite things and what did I put in my mobile? An apple of course.
I ate a ton of them growing up. My dad would pick up a bag of granny smiths from the grocery store and about 2 days later would say, "Hey, where did all the apples go? I just bought a big bag!"
Our son Jude's favorite thing to eat is an apple.
A photographer friend of mine sent me a gift card to Potterybarn last summer and as I wandered in there one day I saw this cute clay pot full of apples. It had my name on it. :)
I was originally only going to post the photo on the right, but when I was taking this photo today Benjamin came over and took great interest in what I was doing and the lighting was so pretty, so I cheated. ;)
{Shot with Canon 5D MarkII, 50mm f/1.2L lens, ISO 200, 1/160 sec, f/1.4. Light source: entry way window.}