Today was one of those days I'll never forget. It was that wonderful.
Josh and I have had a great weekend. We shot Katie & Zach's wedding at Kennedy School yesterday and it was so beautiful. The flowers were just amazing and Katie's color scheme all went together perfectly down to the smallest detail. We loved being there.
Then today we got up and drove to the beach - something I've been dying to do for weeks! And it was blue skies! And we got to photograph Greg & Shana's wedding. It was spectacular. We were at this gorgeous house in Cannon beach up on this hill overlooking the ocean. After the wedding we came down to the beach and did a private little photo shoot of the bride and groom, then a few more shots back at the property as the sun went down. I can't wait to show you.
Josh and I gave hugs goodbye and came down and checked a room at the
Surfsand Resort
. Just as we arrived the sun was setting and it was bright red.
So many people were on the beach, and everyone watched the beautiful sunset. And it was so warm.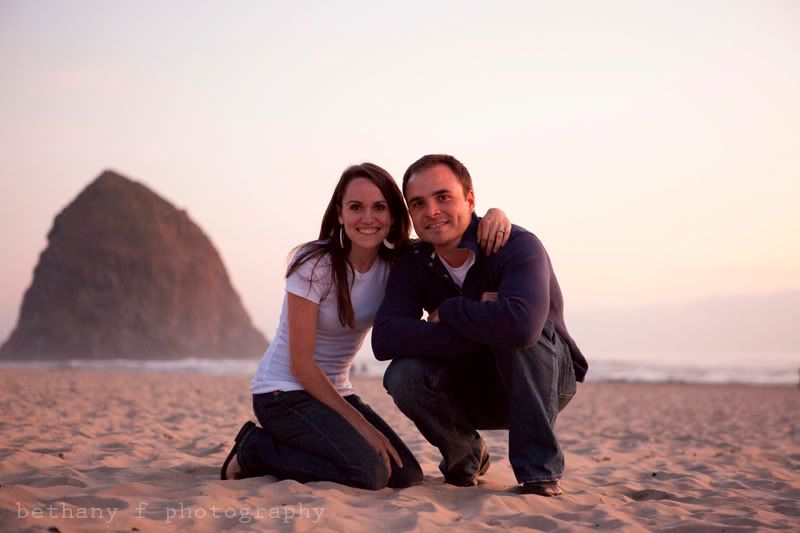 Josh and I took a few photos in the red glow (sorry, I didn't really edit these, so they're kind of dull) and then went and grabbed dinner at the
Wayfarer restaraunt
. We got a cute little booth and sat side-by-side and enjoyed a wonderful meal.
We had called ahead for a bonfire and then went down to the beach and roasted marshmallows and sat back in our chairs, holding hands, amazed by the incredible view of stars and the sound of waves. It was just... unforgettable. Sight: stars, glowing bonfires, feet in sand, handsome husband. Smell: smoky fire, the beach. Taste: toasted marshmallows. Sound: Waves, people talking off in the distance, Josh and I singing. Touch: my love's hands around mine.
Even though it was really dark, we walked down to the waters edge and stood there arm in arm and watched the waves roll in. It was like the stars in the sky connected to the ocean. I felt so small. So small. I just stood there in awe of God. It was so beautiful. So incredible. So perfect. Josh and I sang, "
I am your beloved
." And in the middle of singing I saw a shooting star right right in front of me, a little ways above the ocean!! Speachless.
We then walked back to our fire and danced. Why not? :) Then we said goodbye to our time on the beach and headed back to our room.
I have to shout a huge thank you to the Lord for tonight. My soul was craving such a special time away to rejuvinate and for a bit of a romantic getaway with Josh. My heart is beaming. :) So grateful.