There are many things I love about this time of year. Like any Oregonian, I get excited when the season begins to change and that "crispness" is in the air. I love my boots and sweaters and scarves. I enjoy pumpkin spice lattes, having the heater on in the car and seeing the colorful fall leaves! :) Oooo, it all screams cozy!
But there are even more things I get excited about as we enter the holiday season. Oh yes. :) Here are 6 random things.
#1) Pomegranates!!
I've already eaten 3 in the past week and I have 4 more on the counter. I know, it's a bit overboard, and I'm sure they're staining my teeth, but I just love pomegranates! And they are fun to eat. I know there are many ways to open and eat one, but here's a quick tutorial on how I do it, if you care, ha,ha. (I saw this method on Martha Stewart a couple years ago and thought it was better than any other way I'd tried it before.) So, this is for the person who walks by pomegranates at the store and wonders what in the world they are and why anyone would buy one: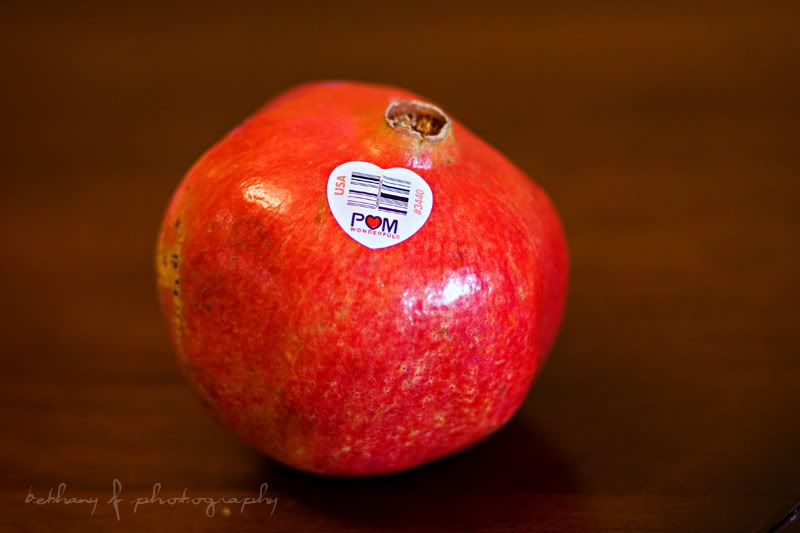 First, when shopping for a good pomegranate, look for one that is a nice rich/deep red. If it's too light in color the juice will be a little bitter, and you don't want it over ripe either. So if it's skin is looking shriveled and it's coloring is turning more to brown then it's most likely on it's way out.
So, I first slice off the top.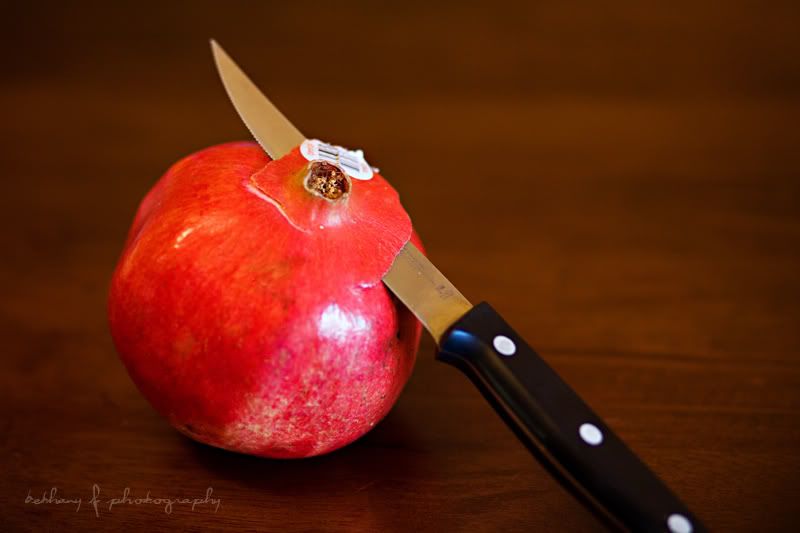 Then I take the tip of my knife and I carve out a little well in the top.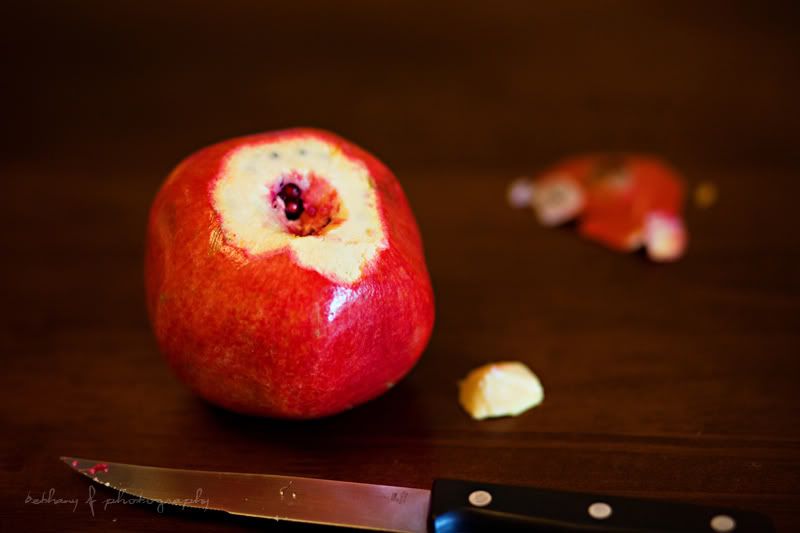 Then I take the tip of my knife and I slice into just the skin (not deep or it will "bleed") in four sections, from top to bottom.
Then put your thumbs in the well and gently pull opposite sections apart. Wa-la!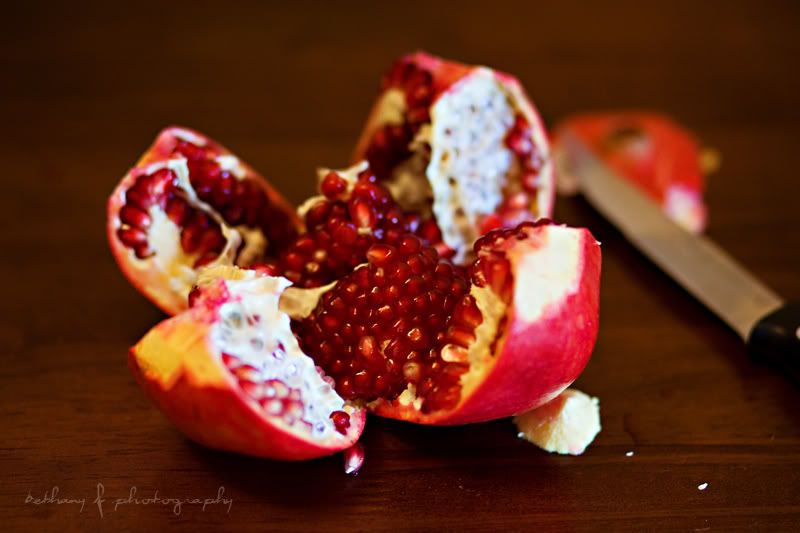 At this point I put all the seeds in a bowl, by peeling apart the layers and gently pulling the seeds out in sections.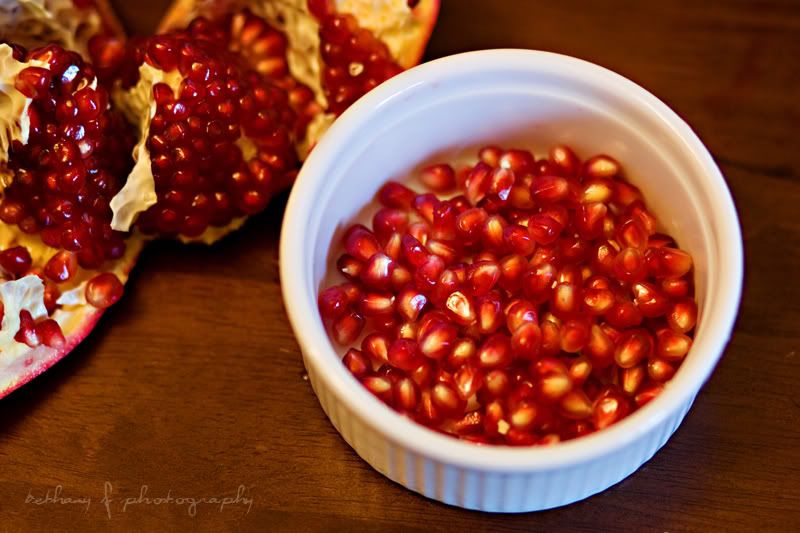 If this is your first time doing this, don't wear a white t-shirt, or it will become your "pomegranate eating" t-shirt, that you only pull out when you're going to eat one. :)
Some people eat the seeds in their entirety, like my kids. I like to spit out the tiny white inside piece of the seed.
#2) Oranges!
(I promise this whole blog post isn't about food.) I love the oranges this time of year because it seems like you can't buy a bad one! And most of all they remind me of Christmas. My parents always put an orange in the bottom of my, and my brothers', stockings. So when I cut one open this time of year I instantly think of Christmas morning.
#3) Christmas music
I pulled out a Christmas CD last month and listened to it just one time while the kids and I ran errands. Like a secret indulgence in the month of September. Well, it hasn't left my car yet! Every time I listen to it, it gets me all excited. I'm looking forward to celebrating Jesus' birth, and celebrating Thanksgiving and Christmas with my family. O Holy Night is by far one of my favorite songs of the season. I also love We Three Kings and Silent Night.
#4) The foliage
I know I already mentioned fall colors at the beginning of this post, but we drove out to Hood River for the Apple Butter Festival last weekend and Josh was so tired that he asked me to drive. The drive was amazing! It wasn't a good idea for me to drive, though, because I had a hard time concentrating on the road while looking at the beautiful scenery.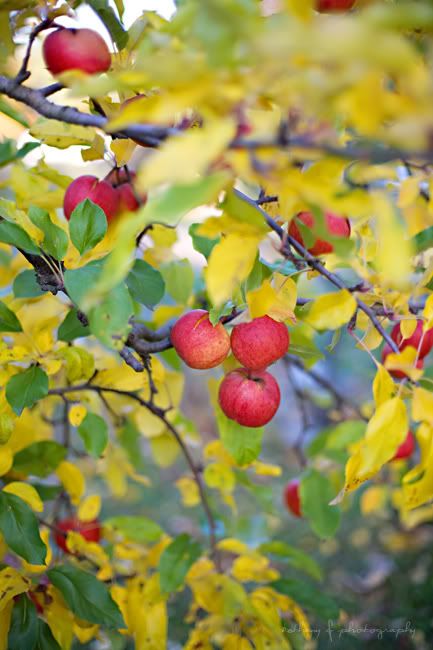 While we were there we enjoyed some fried biscuits with apple butter (amazing!), slow cooked pork, pear coleslaw and cider baked beans. Ok, normaly this would not be food that I would order, but it was so good! Definitely worth the hour drive. Maybe I'm hungry... I keep talking about food. Here are a couple snap shots from our time in Hood River.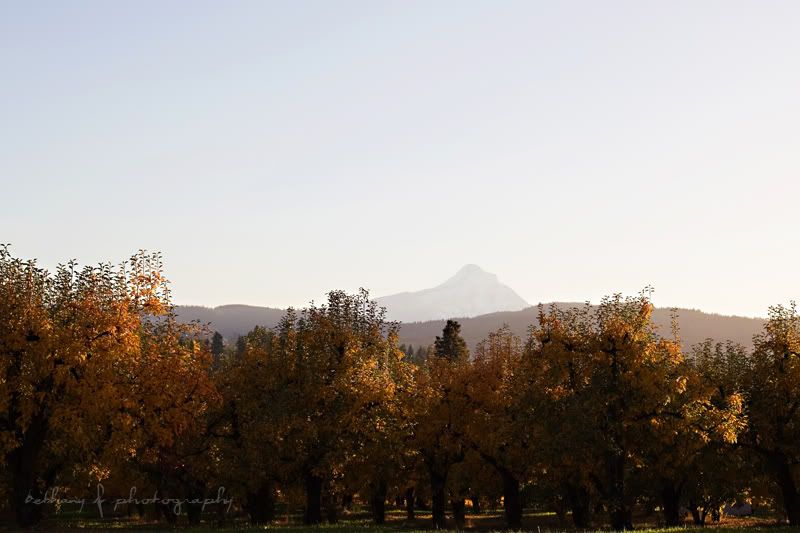 This is completely random, but I love what I call "barn houses" (because it's framing is like a barn). We drove by one that had a charming old barn and a view of the mountain. Here is a shot of it, through our dirty windshield, as we were driving by. Isn't it cute? Well, what you can see of it above that nice hedge there. :)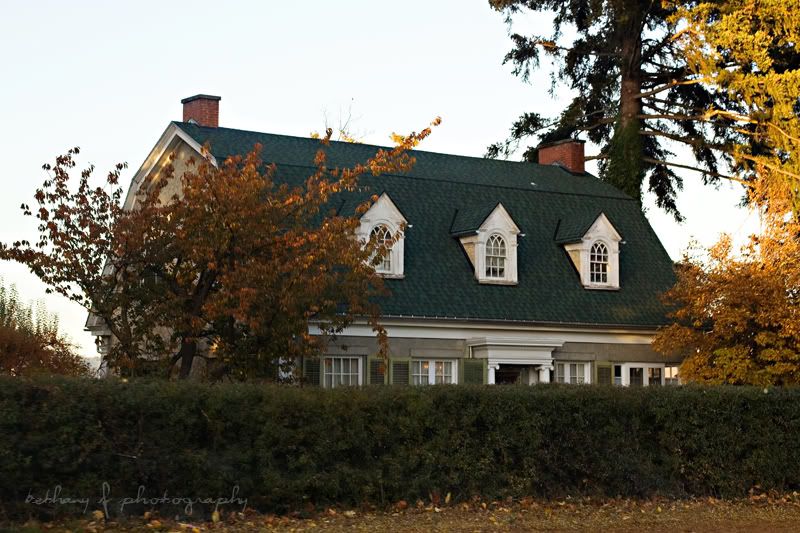 #5) A cozy fire in the fireplace
What is it about it being dark outside, and having your home all lit and cozy from a nice fire? When I was growing up we had a wood stove and it produced the best heat. When Josh and I first got married we had a normal fireplace and we loved to build fires in the winter time. We even camped out and slept by it on the living room floor a few times. Now we have a gas fireplace, and as much as I LOVE flipping a switch to have a "fire", that smell and "crackle" is definitely missing.
#6) Christmas Cards
I know, it's not even the end of October yet, but I'm already thinking about Christmas cards. I love getting mail and especially photos in the mail! That's why Christmas cards are so fun. I love reading everyone's updates and taping their pictures up on the inside of our front door.
Last year a group of us girls got together and had a little envelope addressing party. It was a lot of fun and I'd love to do it again.
Have a great Tuesday!